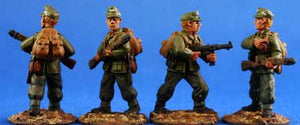 Gebirgsjaeger with rucksacks. While the Mountain Troops fought without their rucksacks, they marched with them.
These figures carry the mountain rucksack. To really load them down if desired, the set contains helmets, ice axes and gas mask canisters you can add to the figures. The helmets were slung from the waist belt when not worn and the gas mask canister was attached to the bottom of the rucksack.
Set contains four figures: two of the figure on the left and one each of the other two, as shown in the color photo.
Perfect to accompany a mule train or to follow the Mountain Guide to the highest peaks.