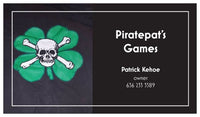 Piratepats's Games
The best place online for all of your Miniature Tabletop wargaming needs.  Warlord Games: Bolt Action (BA),  Konflikt 47 (K47), Black Seas, and Blood Red Skies (BRS), Cruel Seas, 28mm and 1/56 scale figures. And Pirates too by Firelock games, Blood and Plunder. We also carry Frontline (FLG) gaming mats. 
Piratepat25@yahoo.com
Due to the Coronovirus, we will not be attending conventions and some supplies are limited,  As of April 1st, the maximum discount allowed by the manufacturer is 15%.  Free terrain with all orders.  Free ship bases with all Black Seas ship purchases.